Mark Hughes is the Lotus Notes developer behind the ITANA app that makes it possible to access Lotus Notes tasks, Journal entries, and more from an iPhone or Android device.
The iPhone is notorious in productivity circles for not having a native task application. This makes syncing the iPhone to desktop task managment software like Lotus Notes to be a challenge at best. Mark's ITANA application could be a solution to this gapping need in being productive with the iPhone. Plus, his solution works on Android.
Mark recently contacted me about getting eProductivity to work with his solution and there has been progress on that front. He wrote a blog post yesterday that shows how he's modified ITANA to alow you to manage eProductivity Projects & Actions on an iPhone or Android. He's got a few screenshots there that show what he's been working on, including this one: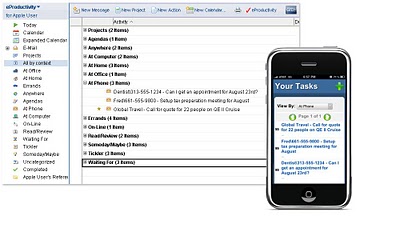 Head on over to Mark's blog to see more screenshots and learn more about ITANA .