Recently, I was invited to present during the IBM Smart Business World Wide Business Partner Community Call. Copresenting with me was Dave Lawrence, President of Smart Technology Enablers, Inc., a Lotus Foundations BP.
We were invited to share how Lotus Business Partners are increasing customer satisfaction and driving business results with eProductivity for Lotus Foundations. As a Lotus BP and long-time eProductivity user himself, Dave was able to share his experience using eProductivity to win new business and keep customers from leaving Lotus Notes. I was there to answer the technical questions and showcase eProductivity 2.0 for Lotus Notes and Foundations, which Ed Brill and Kevin Cavanaugh announced during the Lotusphere 2010 mini-keynote.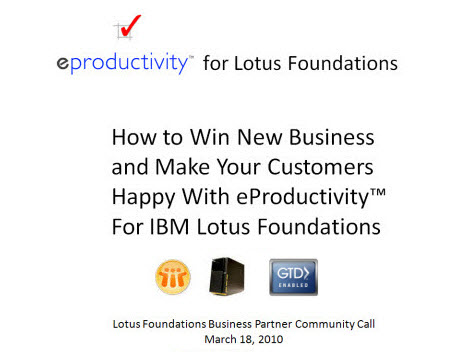 Dave began by asking the audience a few "calibration" questions:

Do you want to go home at the end of the day with an empty inbox?
Are you tired of leaving work with more on your plate than when your day began?
Do you wish you could manage your to-do list instead of feeling like your to-do list is manhandling you?
Would you like to tackle your work week with the confidence of knowing you're being as productive as you can possibly be?
Are you ready to save 30 minutes of otherwise-wasted time every day?
In my exprience, almost everyone will naturally say yes to these questions (and then wonder how it's possible). The cool thing is that with eProductivity and Lotus Notes people actually do this every day.
I really enjoyed hearing Dave explain why he tells Lotus Partners that eProductivity is good for his Lotus Foundations business:
A successful Foundations Partner will often be out of sight and out of mind. eProductivity keeps you on your customer's mind every day. As an IT solution provider, often times the benefit of your hard work is that your customers never see your hard work. With eProductivity, your customers see and experience the value that you bring them each and every day
Dave went on to share his experience when showing eProductivity to clients and they say the three magic words every business partner wants to hear "I want that!".
Once users have eProductivity you can't take it or Lotus Notes away from them….
If you want to learn more, here are the links from the presentation:

For Lotus Business Partners Only:
During the webinar, I shared how for a limited time, any Lotus Business Partner that resells Lotus Foundations or Lotus Notes can get a free license of eProductivity.

I also invited all Lotus Foundations Resellers and Lotus Business Partners to send me an email to request to attend a private webinar where we will go into the details of eProductivity and how it works. Any business partner that thinks eProductivity might be of benefit to their clients (or themselves) will want to attend this private webinar. During the webinar, I'll provide them information on how to download and experience the solution for themselves. Finally, after they complete their evaluation, they can request a free license key for the product.

Details are at the end of the podcast. (If you can't wait, you can listen to the invitation or send me an email and I'll forward it to the right person.)