This week, Ryan and I are setting up a webinar for people that use Lotus Notes (this webinar is of no interest to people that do not use Notes, unless they want to see what they are missing. But more on that in an upcoming post).
Our company uses
GoToWebinar
for our web conferences and events and they do an excellent job hosting and managing large events for us. Anyway, sign ups are going well (and fast) but I've already received several questions like this:
...why is there no button to add this to my LotusNotes Calendar, but there was one for Outlook?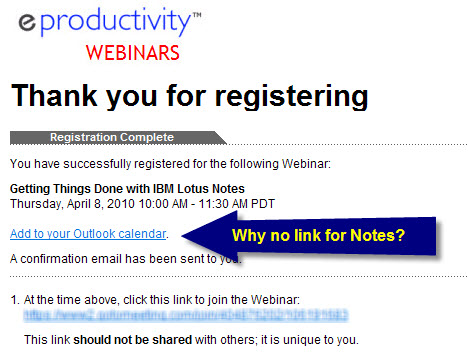 Good question.
Unfortunately, the Outlook calendar event link is created and included in the event confirmation automatically. We have no control over it. Still, it's a reasonable question. I'd like to see a link for Notes users or, better still, just a generic calendar event link that any calendar app can understand.
16 years ago, I was an active participant in the Electronic Messaging Association (EMA) and I was on the vCalendar committee that was headed up by one of the guys from the IBM Lotus Organizer team. One of the goals was to have a single standard to allow calendar data to be exchanged. Many companies have built upon that early work, but it looks like we have a way to go. On the marketing side, I think the folks at GoToMeeting should consider their non-Outlook users, too.


What we really need is a universal calendar format that all calendar clients can read and for web sites to adopt it.
Meanwhile, I'd like to see a tool in native Notes that can read in an Outlook calendar invite. Is there a trick or a tool that would help with this?
If it isn't already on a wish list somewhere, and I'm sure it must be, perhaps Mary Beth Raven's team would consider something like this in an upcoming release of Notes? (Nevermind. See update below)


Update:
If you are using Notes 8.5.1 you can open Outlook Calendar events (.ics files) and either add them to your calendar or subscribe to their calendar. I'll blog more about this shortly.