First, a disclaimer: I do not use Lotus Notes Archiving. Instead, I use another method to invisibly move my finished work (emails, calendar, and tasks) to my archive. However, I serve many Lotus Notes users that use, want to use, or are forced to use Lotus Notes archiving. It is from these clients that I have learned a great deal about the relationship between archiving and lost productivity. This blog post is written for these people and it will consider the impact of poorly configured archiving and what you can do about it.
I received an email from a customer today asking me a question about email archiving:
"My company requires that I archive my mail for anything that is greater than 30 days old. Many of my lists and contexts have disappeared as a result. NOT GOOD. HELP!"

This kind of problem gives Lotus Notes a bad name
Before I describe the problem and a work-around, I'd like to share another more tragic story: Many years ago, I was hired by a large organization to deliver one of my
productivity seminars
. This organization had over 180,000 Notes users and they wanted to learn how to use Lotus Notes more effectively; they wanted me to teach their people how to really get things done with Notes.
If you are familiar with David Allen's Getting Things Done (GTD) methodology or if you have follow my blogs for any period of time, you know the importance of having a single "trusted system" in which to store your actionable information. I was delivering an in-house seminar to about 300 people from one organization and I was talking about the benefits of Lotus Notes and how well Notes works as my "trusted" system when a senior manager from the audience interrupted me:
"Sir, what you describe is fine, but I would never use Lotus Notes as my "trusted system" because I can't trust that Notes won't lose my important information!"
After the audience stopped applauding in agreement, I asked him why he felt that he couldn't trust Lotus Notes and
he explained that his calendar and task information would automatically disappear after 90 days, convincing them that Lotus Notes is an untrustworthy (and generally despised) application.
The wind blew out of my sails; I had to agree with him. If my tasks and calendar items disappeared from my system, I wouldn't trust Lotus Notes either. Fortunately, it doesn't have to be this way.
Apparently, the way the administrators at this organization had configured archiving, ALL of documents in the user's mail file were being archived after 90 days after last modification.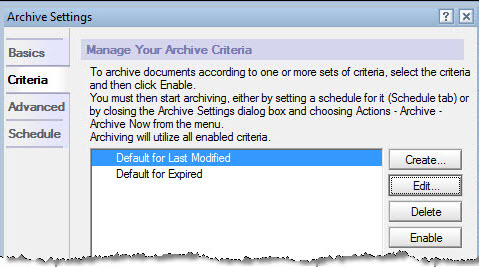 This is a common approach and they used the standard archiving process provided by Lotus. The problem with this approach is that a user's mail file contains much more than just e-mail. A Lotus Notes mail file may contain:
E-Mail messages, responses, and drafts, as well as all email filed in folders
Calendar entries, including appointments, invitations, events, and recurring entries
Tasks, individual and delegated, as well as task tracking information
When the system administrator blindly sets up a rule to archive all documents older than 90 days, much more than email will be lost.
Unless the archiving rules exclude calendar and tasks, the user will find calendar entries as well as projects and actions missing from the mail file.
No wonder users at so many companies tell me they don't trust Lotus Notes.
I wouldn't trust it either!


Fortunately, there's an easy solution
It's important that any archiving policy specifically exclude calendar and tasks or that it intelligently archive only those calendar entries and tasks that no longer have current meaning or action for the user. (Remember, it's ALL about the end-user!)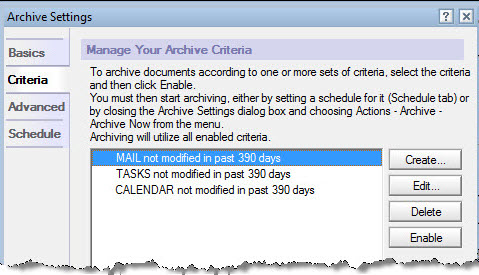 For my clients, I usually recommend the following archiving guidelines:
E-Mail: 390 Days AFTER last modification
Calendar: 390 Days AFTER the calendar date has passed
Tasks: Completed items that are older than 390 days only
I offer my clients these recommendations for archiving based on my own extensive experience consulting with highly productive individuals in organizations large and small. For e-mail, it is unproductive to have to hunt for email in an archive. And, if I don't see an email where I filed it I may not realize that it is still available elsewhere. If I haven't used it in a year, I probably do not need it - at least I do not need it immediately available to me. For Calendar, I have to be able to trust that what I put on my calendar will stay there. Personally, I never allow automatic archiving of my calendar, but for organizations that must do so, I request 390 days. This allows sufficient time after a calendar entry to see the calendar items (e.g. during a weekly or annual review). Finally, for tasks, I personally prefer to manage these myself, but for clients with archiving policies, I insist that tasks not be archived until 390 days after their completion date. Incomplete tasks should
never
be archived.
Unfortunately, vanilla Lotus Notes does not allow this level of granularity over what is archived. For this reason, I recommend that archiving be set to 390 days after last modification. This is not great - future projects and calendar entries can still be lost - but it is much better than what I see at many organizations we serve.
For our customers that use
eProductivity
, we created a special Archiving view that accomplishes all of the recommended archiving objectives (and more) with ease: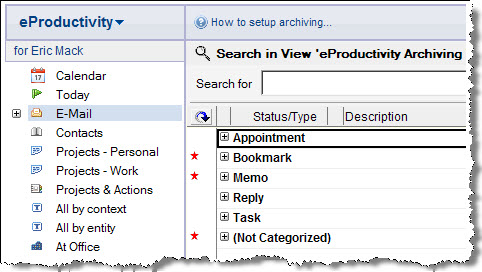 So, whose problem is it?
At the end of the day, it is the system administrator's responsibility to ensure that the archiving policy will not cause the users unnecessary data loss and cause them to distrust their tools (Lotus Notes) or the IT team. In cases where the users are expected to create their own archiving rules, I recommend that training be provided so that users can safely set up a set of conservative archiving rules without worrying about losing important information along the way. I would much prefer have a user that is upset because an archiving rule did not archive enough (it has never happened to me) than being upset because an aggressive archive rule took away too much; that does happen - a lot.
This represents an opportunity for Lotus to step up and provide an improved set of default archiving rules that won't hurt users or their information. While it's ultimately the administrators problem, when users think that Lotus Notes is the problem it's now IBM's problem. As I've said and written many times before, I think Lotus should create default archiving sets that will keep end-users and their system administrators from hurting themselves. An archiving view like this is not hard to set up. I know - we did it for our customers and any competent system administrator with a copy of Lotus Designer (now free!) can do the same.


How to recover from an over aggressive archiving rule?
The first thing to do is to determine where the archiving is happening. Is it running on the server, or is it a local rule? is it occurring within the Notes mail file or is it being done by a third-party utility or compliance tool? Once you know how the archiving is happening, the next step is to stop it. Once stopped, two steps remain: restore the lost data, and set up appropriate archiving rules that balance the needs of the user with those of the organization. In most cases, restoring the data can be done by opening the archive database and Copying & Pasting information from the archive back into the Notes Mail file. When restoring repeating calendar entries, it's important to get all of them. It's always best to discuss this with your administrators as they may have an easier way; many have an automated tool to assist with this.


Parting thoughts
Remember that the purpose of technology is to enable tools for productive knowledge work. IT and the policies they impose exist for the purpose of enabling the users they serve to work productively. When this happens, tools become personal, people think highly of them, and they use them to get things done.


What are your thoughts on archiving and productivity?
If you are an end-user how do you archive? Does it work for you? If you are a Notes Administrator, how do you keep mailbox files sizes down while keeping your users productive and happy?