Lotus Notes has had a hard earned and well deserved black eye for many years regarding it's user interface and lack of eye candy. While it never bothered me too much, many people grew to resent using an application that looked like it hadn't changed visually since the last century.
I'm testing the beta version of Notes 8.5.2 and now that the ban on blogging has been lifted, I want to share one of the little things that Mary Beth Raven and her team have done that I think will make a BIG improvement in the perception of Notes in the marketplace. Support for 32-bit color icons has just been added to Notes 8.5.2!
Consider these two Notes applications and their icons: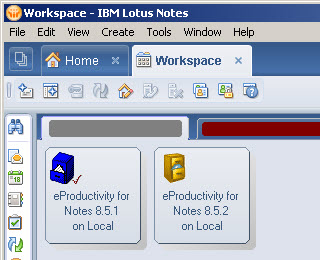 The database icon on the left is the standard 16-bit color icon we all grew to know and love in the last century in the Windows for Workgroups 3.1 era. The database icon on the right is a PNG file that I selected as my DB Icon using the new 8.5.2 Designer client.
The new Notes 8.5.2 Designer client allows me to edit the application icon resource and when I do, I now have the option to choose between the classic icon (16 bit color) and the new 32-bit color icons which can be in GIF, JPEG, Bitmap, and PNG image formats.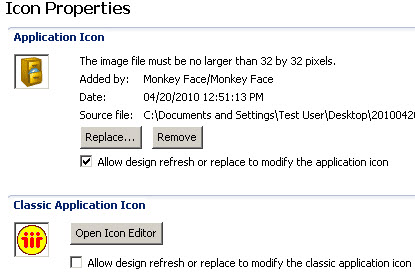 I've long defended Notes against its visual detractors on the basis that Notes is one of the finest information management tools in its class. I still do. For me, it's always been about my ability to be productive not the pretty colors or shiny buttons. Frankly, I could be almost as productive in Notes 4 or 5 as I can be in Notes 8.x.
That said, everyone likes to look at pretty and shiny things and tools that attract more than repell are inherently more productive. With Notes 8.5.2 and the new eye candy it offers, the personal satisfaction some is sure to increase as the product becomes increasingly pleasant to look at.
It's the seemingly little things that are often really big things.
Thank You Lotus!
Disclaimer: I'm using a beta version of Notes 8.5.2. Screen shots and features are subject to change and probably will before final release.