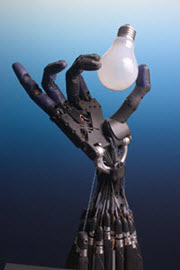 I really enjoy consulting and coaching executives and other professionals, because it allows me to make a difference in the lives of others. There's nothing like that moment when their eyes widen and they say "I get it!" or "That's cool!"
I also get to experience this same thing with students in my
Intro to Robotics
course. This course isn't just a bunch of computer science geeks doing geeky things: I use it to prepare my students to work well, both in their personal and professional lives, by teaching them essential life skills.
I know teaching life skills through robotics sounds far-fetched, so I'm going to prove it below.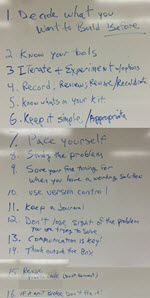 In this course, one of the exercises I teach is the After-Action Review. This consists of five questions:
1.
What was supposed to happen?
2.
What actually happened?
3.
Why did it happen?
4.
What did we learn?
5.
How can we do better next time?
On Monday, as I lead them through an After-Action Review, I wrote the answers to the final question on the board (as you can see on the left). The action under review was the students' preparation for their final in-class competition (which involved designing and building a robot in teams), but the answers they came up with also translate to work and life in general.
Note that these are
not
in order of importance or priority. They're all lessons learned. Here's what my students had to sayplus applies to best practices for life:
Continue Reading "Best Practices for Robotics Competitions, Work, and Life in General" »