After
yesterday's discovery
that I have been inadvertantly sending sending private emails to unintended recipients, I deleted all of my recent contacts in my personal address book. I've also been watching every email I send to see that the addresses are correct. Sure enough, the problem persists. In this example, I send email to RH which is the shortname for my colleague, "Ryan Heathers". RH is defined in the company address book. I know this works -- I have used it for years.
However, as you will see below, Notes sees the "RH" and arbitrarily decides that RH maps better to "Rhonda Small" who is NOT in my contact list but who is someone I once exchanged email with.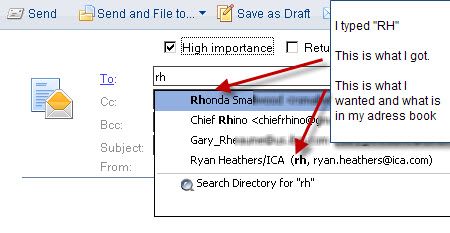 So, Rhonda gets the email intended for Ryan, Ryan does not get the email at all, and I'm left wondering whether I can trust my email system. Not pretty.
Thankfully, less than an hour after my post, am anonymous IBMer sent me a link to
this document
which provides more information on how the "recent contacts" feature works. It's a worthwhile read, although no end user should have to. What I learned from it and want to share with you is that it is insufficient to simply delete the recent -contacts as they will return and your problems may reappear in new ways as they did for me. IBM's tech note explains how to clear the recent contacts:
Q. How do you delete people from your Recent Contacts?

A. If you have a bad email address in Recent Contacts, you can remove it, but the procedure is a bit tedious:

NOTE: You can delete a Recent Contact only in Notes 8.0.1 and later.

1. If you have not already, open your Contacts database; select Recent Contacts in the left-hand navigation pane.
2. Right-click on the contact you would like to delete, and select Delete from the context menu.
3. Select Trash in the navigation pane at left , and click Empty Trash in the action bar above the message list.
4. Send an email to yourself.
5. Restart Notes.
As the technote explains, the procedure is a bit tedious. Next, I attempted to disable recent contacts. While I like this feature, My tests have shown me that I can't trust that my email will get to the intended recipient.
Q. How do you turn off Recent Contacts?

A. To do this, follow these steps:

1. Delete all Recent Contacts by following the steps in the "How do you delete people from your Recent Contacts? Answer above.

Tip: You can select all recent contacts by clicking the first contact on the list and then holding down the Shift key as you click the last contact on the list. You can then right-click on any contact in between.

2. Select File > Preferences, and click on the Contacts section.
3. Select the check box next to "Do not automatically add contacts to the Recent Contacts view."
I tried to do this but this option is not available in my Notes 8.5.1 clients. So, unfortunately, my only option is to disable type-ahead altogether. Here's whatthe tech note says about that: Update: A reader sent me a new template that fixed this issue. See comments.
Q. How do you turn off type-ahead?

A. To do this, use these steps:

1. Select File > Preferences, and click on the Basic Notes Client Configuration section.
2. Check the option "Disable type-ahead for all name fields and use the Notes Basic type-ahead."
I hope this information is helpful and will help prevent you from sending email to an unintended recipient.