I learned this the hard way today when I received a shocking email.
I'm sharing a lesson I learned today in the hope that it might make you more productive and that I might learn something from the comments to this post. From a security/legal perspective, my hope is that this will save future embarrassment/liability as well.
It seems that I had unknowingly sent a private communication to an unintended public email address - in this case, an old mailing list for a KM community. Oops. This was not the first time it has happened to me so I decided to investigate.
I love the shortname feature in Notes because for as long as I can remember I simply type the initials of the person in my company address book and Notes routes the mail to the right person. I've worked this way in Notes for at least 15 years. Example: My wife's name is Kathy and her shortname is "
KM
". I type "
KM
" into the address field and the email gets to my wife. (We have similar shortnames for everyone on staff.) It sure beats looking up a name in a directory.
Since upgrading to Notes 8.5x I have noticed that more than once I have sent email to someone only to find that it went to someone else. Here's what I found.
If I type "
KM
" and press ENTER, Notes will properly resolve it to "
Kathy Mack
" as it should: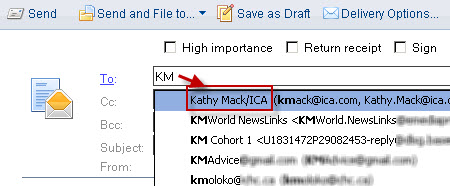 However, if I type "
KM
" and happen to press the SPACEBAR before I press ENTER, Lotus Notes will resolve the "
KM
" as another email address: "
KM Cohort...
"

On the surface that would seem obvious. "KM" is different from "KM " no big deal, right? Wrong.
"Kathy Mack" (Short name "KM") is in my address book while "KM Cohort 1" is not in my address book.
It appears that Lotus Notes is applying the smart type-ahead addressing feature to more than just addresses in my address book -- people I want to send email to. Apparently, Notes is also scanning all email addresses of any emails I have sent or received -- which could include people I might not want to send to.
Apparently, Notes is doing some kind of "intelligent" examination of my email addresses in order to "help" me. Well in this case, it didn't.
In fact, as a result of this feature, it is now easier than ever to send an email to someone you didn't intend to. Surely there must be a way to change this, I thought. I only want type ahead to look at my contacts - at least then, I only risk sending an email to someone I know.
I checked the mail preferences. Nothing. I checked the mail tab in my location document - this is where I would expect to see a setting to allow me to turn off the type-ahead feature altogether. No luck. It appears that all I can do is choose between "Activate recipient name type-ahead" "On each Character" or "On Delimiter". There is no way that I can find to disable type-ahead.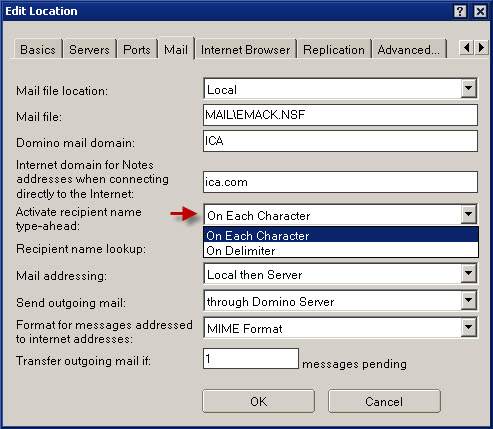 This concerns me. While the new type-ahead capability to scan for any email addresses known to me -- not just those in my address book -- can be productive, I can never be sure that I haven't accidentally sent an email off to an unintended recipient.
It would be helpful if Notes would let me know when an email address is derived from one of my emails instead of my address book - what if, for example, Notes would show the address in a different color to indicate whether it came from my personal address book or if it was derived from an email I have sent or received?
In any case, moral of this story (for me, for now) is to be very careful when using the type-ahead addressing feature!
Am I missing something?
If anyone has supporting information that would better help me understand this feature and perhaps allow me to disable it, that would be great.