In her recent GTD Times blog entry: The Perfect List Manager, GTD Coach Kelly Forrister shared that one of the most common questions she gets asked is, "Which tool should I use for my GTD lists?" 
Kelly explains that while the GTD methodology is platform agnostic; there are a variety of tools that people can choose from to help them manage their workflow.  Some people prefer to use stand-alone GTD tools while others choose to use products like the NetCentrics GTD Add-in for Outlook or eProductivity for IBM Lotus Notes that integrate with their current email and collaboration systems. Some tools are certainly more conducive to GTD than others, but among the ones that work well, it always comes down to functionality and personal preference.
The David Allen Company has been using Lotus Notes as their collaboration platform since 1993 and David Allen and many of the GTD coaches and staff also use eProductivity as their GTD implementation tool of choice.
Kelly recently invited me to talk with her about what makes eProductivity so functional for people that use Lotus Notes. You've heard me share that David Allen says that "eProductivity is the ultimate GTD implementation tool for Lotus Notes." In today's podcast, you'll learn a few of the reasons why.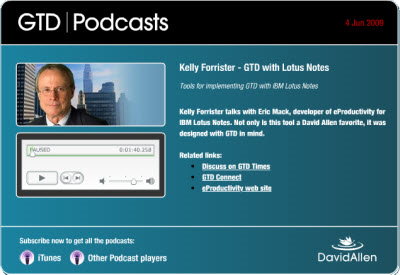 I originally thought we would talk specifically about software features but the podcast ended up covering much more. I got to share some of the design philosophy and underlying features and principles that make eProductivity David Allen's recommended GTD solution for people that use Lotus Notes. Even if you are not a Lotus Notes user, you're sure to find value as we discuss the key features that make for an excellent GTD tool.
Podcast Description: GTD Coach Kelly Forrister and eProductivity Specialist Eric Mack discuss what makes an excellent GTD Implementation tool. Kelly describes the features of eProductivity that she and David Allen find most useful.
Session Notes:
00 Introduction: Which GTD tool does David Allen use?
06 Lotus Notes: Nothing comes close for collaboration
09 Anyone can buy and use Lotus Notes
11 Eric explains the extraordinary features of Lotus Notes
17 The special sauce of eProductivity: extensive linking
18 The importance of simple reinforcements, e.g happy face/sad face
22 Is it better to learn GTD first or learn the software and then GTD?
27 E-mails linked to projects & actions remain fully usable as e-mails
28 Intelligent breadcrumbs available everywhere
29 Cut & paste is not productive; Eric hasn't used cut & paste in 2 yrs!
30 David Allen uses ActiveWords to control Lotus Notes/eProductivity
32 What about linking projects and actions on a mobile device?
34 Getting started with eProductivity - simply download, open, and go...
35 The Weekly Review Coach - helps you keep your system current
38 eProductivity is a complete GTD implementation tool

Listen Now
Special Offer:
Listen carefully: there's a free trial and on the podcast and an offer of $100 off to the first 50 people that respond by June 15. (Listen for details in the podcast.)
Related Links:
Update: I've decided to set up a free drawing for eProductivity, ActiveWords, and GyroQ - the three tools that I use to improve my productivity with Lotus Notes. See here for details.