Michael Sampson
has been focused on the effective use of collaboration technology since the mid-1990s. I met him at a 1997 EMA conference, where we co-presented on the future of unified messaging -- and we've been friends and business colleagues since.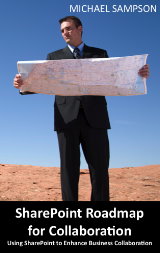 For several years, I've encouraged Michael to write a book on Lotus Notes for collaboration. I even contacted IBM press to see what's involved - a lot. Michael shared that in the absence of significant market awareness of Lotus Notes he did not think a book around Notes made as much business sense as a book around SharePoint. (Michael's been a long time Lotus Notes user and advocate; we continue to use Notes to collaborate.) For the past few years, Michael has been focused on the use of SharePoint for collaboration. Michael's just published his second book on collaboration; this one's called "SharePoint Roadmap for Collaboration." I had an opportunity to be a part of the review process and I think the book is excellent. If the examples were changed, it could easily be called "Lotus Notes Roadmap for Collaboration." What's important are the principles, which are true regardless of platform.
I've asked Michael to write a guest post for the Notes on Productivity blog, because having gone through the copy of his second book, the themes are just as relevant for Notes people as for SharePoint people. I highly recommend that you buy a copy of Michael's second book, both to learn about SharePoint and to read about the principles of effective collaboration that Michael addresses.
So ... here's Michael ...
SharePoint Roadmap for Collaboration: My Second Book
Like Eric, I'm a strong advocate that technology needs to be used in a way that improves productivity and effectiveness. Unlike Eric, I've chosen to focus my research and consulting over the past 2.5 years on SharePoint. During this time, I have written a book for Microsoft Press about how business users can embrace the capabilities of SharePoint to support team collaboration (see Seamless Teamwork), and just recently, I have written and self-published a new book called SharePoint Roadmap for Collaboration.

With a title like that, obviously this new book is about SharePoint ... not Lotus Notes. So why has Eric gifted me the opportunity to write about it here, on Notes on Productivity? For a couple of reasons ...

First, the ideas and concepts in SharePoint Roadmap for Collaboration are transferable to the Lotus Notes world. Although the specific examples in the six focal chapters are about SharePoint, you can apply the principles to the use of Lotus Notes. Here's an example. Chapter 5 is about engaging with business people to understand how they work, and how the technology of SharePoint can be used to enhance their work. But the focus is on engagement -- what engagement is, what engagement looks like, and why there is a high cost when you only pretend to engage. If you have Lotus Notes at your place of work, and you are charged with making it work well for your business users, then Chapter 5 is just as valuable for you as for a SharePoint person. Take and embrace the principle of engagement, and ignore the term SharePoint.

Second, I actually talk about Lotus Notes in Chapter 4, the governance chapter. The very first reason that governance is necessary is so that firms can "avoid the mistakes of yesteryear". I draw a comparison between what the technology of Lotus Notes makes possible and what the technology of SharePoint makes possible, and then offer this conclusion:



"Many people consider Lotus Notes a massive failure. Whether the failure of Notes is a marketing failure, whereby Microsoft out-marketed IBM and created the perception that Notes is a failed product, or whether it is actually to do with the technology remains to be seen. Just as there are firms that have done great things with Lotus Notes, so there are firms that have done great things with SharePoint. And vice versa. The point is that if you believe that Lotus Notes was a failure, I propose that unless you do things differently with SharePoint, you will get the same mess that you achieved with Lotus Notes."

(page 93)

You'll note that I don't argue or advocate that Notes sucks. I argue that if you (a) think that Notes sucks, and (b) think that SharePoint will by itself solve the "Notes problem", that you are in for a rude shock.

Finally, regardless of what platform you use at work -- Lotus Notes or SharePoint -- it's the application of that technology to pressing problems and opportunities at work that makes the difference. It's not the technology per se, although the capabilities of the technology has some bearing on what's possible (as I talk about in Chapter 3, where I evaluate what SharePoint 2007 can do to support team collaboration). My new book is about how to approach an advanced technology like SharePoint (or Lotus Notes) and how to make a positive difference in the lives of the people you work with and support at your firm.

Take care ... and my best.

Michael Sampson, [email protected] www.michaelsampson.net
Michael's book is self-published and not yet on Amazon... and it won't be for at least 6 months. You will have to buy it directly from
www.sharepointroadmap.com
, but then at US$39 including postage and packaging, it's a steal compared to what Michael would charge for a day of consulting! If you need more time to explore the book,
download and read Chapter 1
.