This year, unfortunately, I couldn't make it to Lotusphere in Orlando. After 2009's triumph there with the eProductivity team, I was disappointed not to attend. But, all was not lost. Today I attended the Lotusphere Comes to You roadshow, and this time I didn't have to fly half-way round the world. It was taking place in Barcelona, at the Hotel Juan Carlos I hotel, and a 20 minute walk had me arriving just before the 09:30am start.
So, how was it? I would say a 'roaring success' judging by some comments from my fellow-attendees (a crowd of around 150 attended).
The highlight for me was certainly Ed Brill's talk on the direction of Lotus collaboration. In Spanish! Well done Ed, your effort and enthusiasm were appreciated by one and all. eProductivity got a nice mention, as did yours truly (Eric Mack must have warned him of my presence). Thanks Ed. The 5-minute Project Vulcan video that Ed included left me inspired. You could almost feel the sizzle in the room, as the new tools that Lotus are building looked great. Looks like exciting things ahead for IBM Lotus software.
Ed's slide showing eProductivity: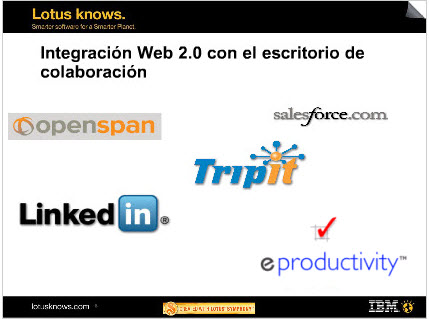 Luis Suárez also did a very nice job of explaining the social software improvements being made in the Lotus family. Sametime, portal, mashups, social enterprise, Lotusphere prizes and case studies followed-on and, without going into any detail, rest assured that it really does show the strong offering that Lotus has.
All-in-all a great day.
Guest post by Ian Armstrong