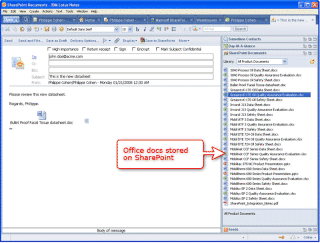 With the widespread proliferation of SharePoint sites "under the desk" at organizations (even Notes ones) ... hey, a manager just has to buy a Windows Server box with Server 2003 and they can do Windows SharePoint Services ... it's good to see a vendor come out with a way of integrating the two worlds.
Mainsoft Corporation
today announced the ability to add a list of SharePoint sites to the sidebar in Notes 8.
This means end users can:
look at a list of Office documents stored in a SharePoint site within the Notes 8 client, and drag-and-drop those documents into a Notes email message or calendar appointment
check out documents in SharePoint directly from the Notes user interface
drag an attachment out of a Notes email or database and drop it into the appropriate SharePoint site
That's the out-of-the-box capabilities of the new "SharePoint Integrator for Lotus Notes", and for organizations that want more, Mainsoft offer a bevy of professional services to more elegantly and fully integrate the two worlds.
I look forward to reading
Michael's
review of this.