One of the neat things about being an
eProductivity specialist
, is that I have the opportunity to research, test, and deploy a variety of new technologies for my clients. Before I recommend any technology to a client, I work with it in-house. If, after a few weeks, I'm still enamored by the solution, then it will find its way into a recommendation for a client.
One technology that I have used over the years is a product called Pylon Pro, which allows me to publish Notes databases to a Palm or Pocket PC device. I've been helping my clients to deploy the Pylon desktop solution for many years (since the 1.0 release), when it was first developed by a small company called Globalware. Now, after several acquisitions, Pylon seems to have found a home and an outstanding support team as part of the
iAnywhere
family of solutions, from Sybase. The neat thing is that Sybase did not just add Pylon to their existing family of solutions and park it there. No, they have continued to develop, extend, and refine the Pylon technology into their suite of M-Business products.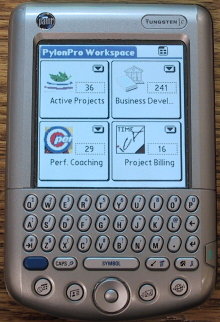 I am most excited about two products:
Pylon iAnywhere
-- a server-based tool to extend PIM information from
Lotus Notes
or
Microsoft Exchange
to any number of handheld devices (Palm, SmartPhones, PocketPC, etc.), and the
Pylon Application Server
, an M-Business solution that allows me to extend the reach of Notes/SQL/ODBC databases to a mobile workforce.
This means that my clients can now take the same databases that they have on their desktops with them on their PDA or SmartPhones. Changes made in one location are immediately reflected in the other.
This takes mobile computing to a whole new level, as I'm now able to quickly design and deploy eProductivity applications for my clients which can be used anytime, anywhere.
This morning, I received a call from Gabe Stanek, a systems consultant from iAnywhere Solutions. Gabe gave me a private tour of the new Pylon Apps Server 6.0, which delivers client-side processing to their existing product. This means that I can now deploy mobile applications that will do onboard look-ups, validations, and updates to records as they are edited on the device. My enterprise clients will be quite excited to learn about this! I can now deploy a database as a mobile application with client-side logic -- something that used to take days or weeks of development -- in just a few hours . Nice work iAnywhere team!
I'll have much more to share about this and other productivity enhancing technologies, when I launch my
eProductivity.NET
blog site.