Guest post by
Wendy Mack

Today, I decided to install Tungle to make my scheduling much easier. This free application eliminates much of the unnecessary time, emails, and mistakes that accompany scheduling events. Synchronizing with your calendars, Tungle.me posts your available meeting times to the web and helps you manage your schedule without sharing private information.
The registration process of Tungle.me is very self-explanatory. You can register for Tungle.me
here
. Simply fill out your information and follow the instructions provided!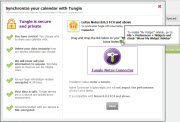 The only problem I encountered during setup was when I was trying to install the widget to allow Tungle to sync with my Lotus Notes calendar. It appears that the widget feature does not work when Lotus Notes is running in Basic mode. It is important to make sure that Notes is running in Standard Mode, before following the directions provided under the Calendars & Contacts link. After that, I found the integration process with my Notes calendar to be extremely easy. The only thing the widget does. however, is integrate your Notes calendar with Tungle. As far as I can tell, you cannot use Tungle offline with Notes. After the initial setup, your entire calendar must be managed on the Tungle site.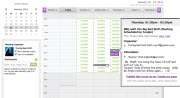 With Tungle, I am now able to share my availability with others so that it takes me less time to try to organize meetings and find a time when everyone else can meet. I simply send a link to people to view my available times, and/or when I create an event I am able to select several preferred times that I can meet. Tungle handles the rest! My associates can respond with the time that works best for them and Tungle updates my calendars for me. It also sends me an email notification that the meeting has been scheduled for me.
I am very pleased with what I have seen so far and I look forward to becoming more productive with this application!
Update: For a good overview of other meeting scheduling applications here's a good summary I found on
Mashable
,