Lotus Notes offers a number of productivity features, and I try to learn about and use them all, where appropriate.
Every once in a while, I run across one that simply does not work - at least not for me. Case in point: Responding to Internet E-Mail prompts me with a Multilingual MIME Warning. (This warning even made it onto
Ed Brill's list of 'Most egregious Notes error messages'
)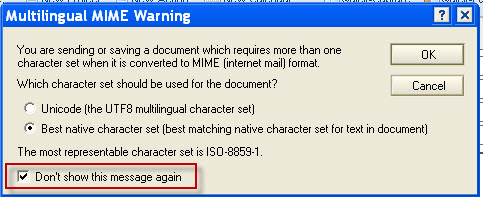 Nevermind that if I was an average user I would have no idea what MIME was, the check box "Don't show message" again, does not work for me.
As a result, each and every time I reply to an email I still get the prompt - twice.
I've been searching the forums, so far unsuccessfully. I wondered if this was a Notes ini issue, but I have many other settings that stick just fine.
Any thoughts?
If I cannot find a solution, I'll have to reclassify this post in the deproductivity category. It's a real pain.