Buzz Bruggeman
, president and chief evangelist at
ActiveWords
, called me this morning to show me how he is integrating ActiveWords with Palm desktop. I mentioned my
eProductivity Template for Lotus Notes
, and how I planned to add hot key control to all of the unique features of my template for an enterprise customer. Buzz quickly showed me just what I needed to know to use ActiveWords to create powerful shortcuts that integrate with Lotus Notes and my eProductivity template.
I can now quickly create a new action item from anywhere -- even outside of Notes. A simple hot key will automatically launch Notes and open a new action form. I've even set it up to automatically populate the date & time for me so that all I have to do is enter my next action, select my context, and save. (See screen shot)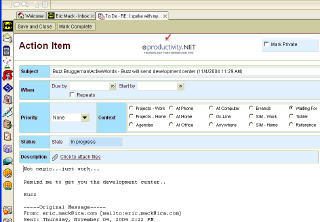 To take things to the next level, I created a hot key that will allow me to select an email and convert it into an action in one step. Cool.
I've blogged about ActiveWords
before
, and I remain enthusiastic about the product. Not since
Actioneer
came out with Actioneer Pro for Lotus Notes 4.0, have I seen such a powerful shortcut tool that I can use to quickly capture my actions. I've recently enhanced my eProductivity template to support Notes R6 for an enterprise customer. ActiveWords will help add further value to the template.
For those of you who are interested, I plan to share my ActiveWords wordbases so that anyone who uses Lotus Notes can enjoy them and enhance them to suit their own needs.
Thanks, Buzz!