I've just returned from Chicago, where I delivered a private
Lotus Notes eProductivity
seminar for an enterprise client with over 100,000 Notes users. Illinois is very green and quite beautiful this time of year; the campus and facilities at Northern Illinois University, where I gave my presentation, were equally beautiful. The audience was great and became quickly engaged when I told them that I would show them things that they could do right away with Lotus Notes to increase their productivity and save 10-15 minutes (or more) each day.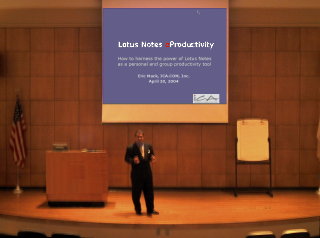 For three hours, I demonstrated how the power of Lotus Notes can be harnessed to transform the way that an organization works. I provided specific examples of some of the ways that effective organizations are using Lotus Notes today to stay connected and to even to pull ahead in this changing economy. I was able to show some simple steps that anyone can take to use Notes for maximum effectiveness: categories as contexts, the secrets to processing e-mail efficiently, and how to quickly customize their Notes desktop Welcome Page to get away from the tyranny of e-mail and to focus on their defined actions.
Of course, talking about this only fueled my enthusiasm and passion for sharing what I do, as you can see below.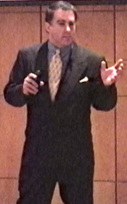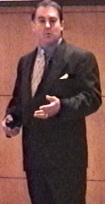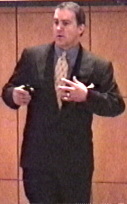 Everyone left with a new way to look at how they can use Lotus Notes to more effectively organize and manage their information, communications, and actions.
One of the people in the audience was Ed Brill, IBM's Senior Manager of Messaging and Collaboration. It was fun for me to know that Ed was able to see not only what I do for my clients to help them benefit from Lotus Notes, but also how a large, forward-thinking enterprise is working to equip its people for action and to get the most benefit from its Lotus Notes investment . I'm not sure whether this was a good thing or not but it seems that while I was speaking, Ed was busy taking notes on his laptop and updating his
blog
in real-time:
"Eric's methodology on how to increase productivity is compelling. I don't want to give away his trade secrets here, but it seems like he's got a great way of applying David Allen's Getting Things Done methods, plus of course his own insights, within the capabilities of Notes."
- Ed Brill, April 20, 2004, www.edbrill.com
I was surprised to leave the presentation to a message from a friend "did you see what Ed just wrote about you?" Thanks Ed, for your kind words. It was nice to meet you. I'm a little embarrassed that it took me two days to update my own blog.
Speaking of weblogs, many people approached me after the seminar to ask if I was planning to share more of my best-practices of how to set up Lotus Notes for maximum efficiency. Good question. That's exactly the focus of the
eProductivity.NET
site, which I hope make live in the next few months.
While the presentation was exhilarating, and I had the opportunity to meet many wonderful people, nothing can surpass the joy I felt as I exited my American Airlines flight at Burbank airport to find my sweetheart of a wife and four beautiful daughters, waiting for me with open arms and a "welcome home daddy" sign. These special ladies are the reason that I do everything that I do.