Last week, I got to enjoy a fun afternoon in the studio with
David Allen
,
Robert Peake
, and
Merlin Mann
(
43 Folders
). David invited us to Ojai to record an upcoming GeekTD podcast. David though it would be interesting to bring together a few geeks with varying approaches to productivity. Merlin talked about how he uses his Mac, Robert talked about the power of Mac and Open Source solutions, and I talked about Lotus Notes as a productivity tool for Getting Things Done. The discussion went all over the place and I have no idea what will end up in the finished version. David asked great questions and tried to keep order, which must have felt like herding cats.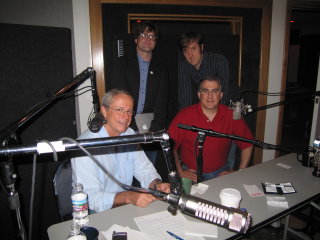 David opened the session by stating how cool he thinks Lotus Notes is; he asked why, after 20 years, it seems that many people who use Notes still don't get the power of Lotus Notes. David shared that he frequently goes into organizations that use Notes only to find that people (and their managers) have no idea what their system can do for them (e.g. that they can create their own databases, participate in discussions, use newsletter summary, agents, collaborate, etc.)
Next, David asked me what percentage of Lotus Notes I thought people who use Notes really "get." I proposed 20%. David said that in his experience it was less than 10%. I hope we are both wrong. Either number, if true, represents a missed opportunity. We had some interesting discussions on the topic of Lotus Notes as a powerful tool for organizational productivity and why David and I think it's cool. I have to admit that as we discussed other general geek productivity topics, such as "how do you sync your projects and actions between multiple computers?" or "do you use unified messaging?" I couldn't resist the temptation to hold up one of Merlin's 3x5 cards, upon which I'd quickly written ...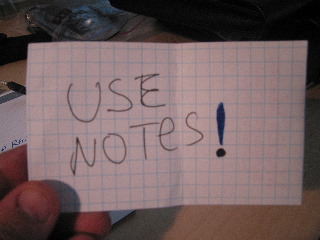 I held up the card several times during the discussion.
We discussed much more than Lotus Notes that day, and Robert and Merlin brought up some very interesting points. I learned a lot from the discussion. Each person in the room could have worn a propeller beanie. As I mentioned, the conversation went all over the place. I suppose that this first discussion was to test the concept and see what happens when you raise the geek factor by four.
It was a fun discussion and I really enjoyed spending the time with David, Robert, and Merlin. It looks like this is something we will do again. I look forward to it. I hope that conversations like this add value to the GTD Tech community.
Resources:
Mac users: be sure to read Robert's Article,
Getting Things Done on a Mac
.
Merlin's site,
43 Folders
, has a wealth of information on GTD
Notes users: for tips on implementing GTD in Lotus Notes, have a look at
this
or search
here
.
Finally, the
GTD Forum
also has useful information on the above topics, and more.