Guest post by Ryan Heathers
Last Thursday, we held an IBM employee-only "Getting Things Done in Lotus Notes" webinar with eProductivity's Eric Mack and featured guest, GTD® creator David Allen. Judging by the 725 IBMer registrants, the 200 questions asked during the session, and the multitudes of follow-up emails that attendees sent us, the webinar was a resounding success.
The webinar even generated the Tweet of the Month! (trademark pending, of course...)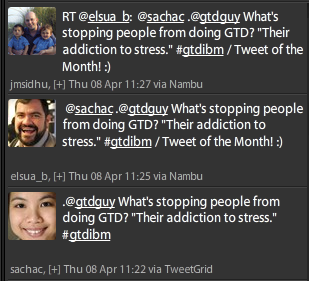 Hat tip to @sachac, @elsua_b, and @jmsidhu
David and Eric were on fire and shared many things they've learned about being more productive with Lotus Notes.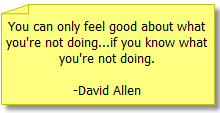 David delivered a passionate explanation of the Essentials of GTD. He spoke on the vital importance of a trusted system and reminded us that you can only feel good about what you're not doing if you know what you're not doing.
For those who had never heard of GTD, it was a eye-opening experience (based on their comments afterwards) and for those of us familiar with GTD, it was a welcome refresher.
Eric then showed how to set up Lotus Notes for GTD. First, he demonstrated how regular Lotus Notes can be an effective GTD list manager, and then he showed how using eProductivity takes Lotus Notes to the next level. The best part? It was all stuff people could put to use right away.
Plus, all attendees received a free resource kit which included an eProductivity Reference database full of great GTD articles from David's library.
First, let me say a big thanks to everyone who attended the webinar. Your participation was appreciated and it's been great to hear from so many of you about how the webinar benefited you.
Let me also say thanks to everyone who helped spread the word about the webinar.
Another opportunity to hear David and Eric live:
On April 28th, you have another opportunity to experience David and Eric's extensive knowledge of productivity.
This time, the free event is open to the general public but spaces are filling up quickly. So before the event is booked out, make sure to tell all your friends who use Lotus Notes and could use more time & less stress in their lives!
Register for the webinar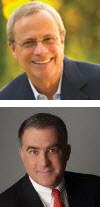 Now, in case you're still deciding if this is the webinar for you, here's the planned agenda:
Agenda

Your Personal Productivity Equation
Essentials of GTD
How to set up Lotus Notes with GTD
David's Productivity Toolkit
eProductivity™ for IBM Lotus Notes
Getting Started with GTD and Lotus Notes
Q&A;
As you can see, this is a must-attend event! Register today.
To get automatic updates on eProductivity's webinar events, you can sign up for the free eProductivity newsletter.