If you are planning to be at Lotusphere, you are in for a treat! Stop by pedestal #722, say hello and hand us your business card. Then, pick up your Lotusphere 2009 resource CD from the Notes on Productivity Blog.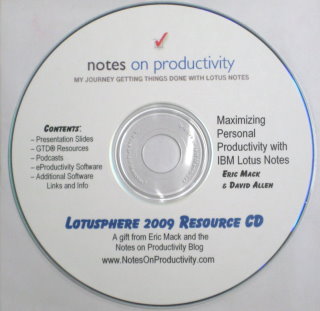 This CD contains the presentation slides from my Lotusphere presentation (BP304) with David Allen, a number of GTD Documents from the David Allen Company, two recent podcasts on using Notes productively, (courtesy of Bruce Elgort and Michael Sampson), links to useful resources, and a special gift from eProductivity.
This is my way of saying "Thank you" to the Notes community and for stopping by to say hello! I look forward to meeting you!
Remember: eProductivity, Pedestal #722 in the Lotusphere Product Showcase. See you soon!