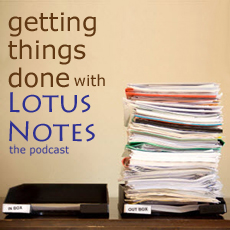 How productive are follow-up flags and due dates? What about best practices on delegating to-dos to your subordinates?
What's the most effective way to keep track of tasks you pick up from social tools like Lotus Connections and Lotus Activities?
And, should you track personal tasks in your system at work?
These are the kinds of questions that David Allen and I are addressing in the Getting Things Done with Lotus Notes podcast series. We're in week three of the series and I invite you join us we answer the more than 200 questions we received in our recent webinars.
In the most recent episode published last week, we continue the conversation about how to be more productive with standard Lotus Notes tasks, mail, calendar, and more.
Have a productivity question you'd like to get answered?
Send me an email and I'll add it to the queue for an upcoming podcast.