A blog reader just sent me this link to tell me that my Webinar,
MindManager as a Knowledge Management Tool: How I use MindManager and Lotus Notes to get things done
, is now up for replay on the MindJet web site. Apparently, they (Mindjet/WebEx) ran into some technical difficulties and lost the last 20 minutes of audio.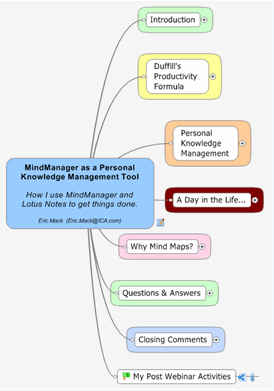 That's too bad, because we covered some powerful uses of MindManager and Lotus as tools for Personal Knowledge Management. You watch the silent part can make up your own narrative. if you come up with something great, post it to you tube and send me a link!
Judging from my email, there seems to be considerable interest having me do a follow-up webinar; I'll definitely consider that for the future. If you have topics you'd like to see me cover in greater detail, please leave your comments on this
blog post
. I'll review these comments as ideas for possible future webinars.
Here's a link to the
webinar replay
.
Enjoy!