UPS delivered a shiny new TREO 650 SmartPhone today. My plan is to fully integrate the TREO 650 with Lotus Notes for a variety of
eProductivity.NET
applications using Pylon
iAnywhere
to mobilize them. I've done quite a bit of integration using Pylon products over the years, and I highly recommend them.
Lately, I have been looking into a product called
mNotes
by
CommonTime
. The mNotes product is similar to iAnywhere in many ways, however, it has a few features not found in the Pylon product that are of interest to several of my corporate customers. These include: support for multiple calendars, multiple To-Do lists, multiple email users, and on-device folder support. This last feature will apparently allow for the filing of messages on the device and to have those changes replicated to Lotus Notes wirelessly. I'll let you know how the evaluation it works out.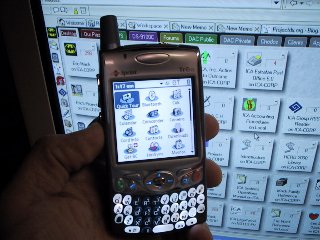 My primary reason for choosing the TREO 650 and the SprintPCS network is their $15 PCSVision plan with unlimited internet. Thanks to the Sprint PCS network, I can replicate data between the TREO and Lotus Notes. When changes happen at the desktop or on the device, they will be immediately replicated to the other location. Earlier this year, I deployed this
system
for a client using Pylon iAnywhere and I was very pleased with the results. On the unified messaging front, I've been using and recommending
Remark! Unified Messaging
for the past 8 years; my next project will be to look for ways to integrate the TREO and RUMA.
BTW: The SprintPCS activation process, while mostly smooth, left something to be desired. After entering all of my data on my touch-tone keypad, I was connected over a mediocre quality VOIP connection to Ray, in the Philippines. (I sure hope Sprint's PCS voice quality is better than their customer service voice quality). Of course, I had to give Ray all of the same info that I typed in when I placed the call -- the same information I had to provide when I placed the order. So much for integrated ordering. :-( 20 minutes later, after sharing all of the information that you are not supposed to give to strangers over the phone, I was assigned a temporary mobile phone #. As for the famous $150 rebate, the rep told me that it would take between 4 and 12 months to get the rebate and that I would have to initiate it after 4 months. I wonder if I'll see that $ again.
There is no wireless coverage up here in the mountains where I live, so I'll have to wait until I drive down to the city to see how it really works.
Best wishes for a blessed Thanksgiving. We have much to be thankful for.
Eric