Guest post by Wendy Mack:
Next week, my sister Amy and I will be accompanying our father to the
GTD Summit
; we will be assisting him at the
eProductivity
pedestal in the product showcase. We will help people learn how we use Notes, eProducivity and Mr. Allen's GTD methodology to get things done.
As part of my preparation, I created two documents to help my sister and me prepare for the Summit. I have learned that it is helpful to map out the people we might meet and connect this to a picture so that if we meet them we have a reference point. So that is what I did.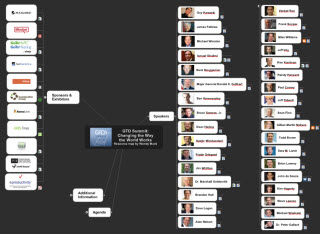 My father encouraged me to share these maps on his blog so that whoever is interested can use them to plan for the conference.
The first mind map contains all of the information relevant to the GTD Summit (speakers, agenda, exhibitors, etc.)
20090301_GTD_Summit_Planning_Map_(Wendy_Mack).mmap
The the second map contains information about key people at the David Allen Company - many of whom will be attending the Summit.
20090301_GTD_Summit_DavidCo_Key_People_Map_(Wendy_Mack).mmap
I hope that this information helps. My sister and I look forward to helping and learning.
Update: I created these in
MindManager
7. Use the free MindManager viewer to read these maps.