Guest Post by Wendy Mack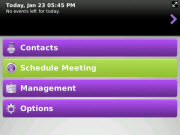 As a follow-up to last week's blog post on
Tungle for Lotus Notes
, I decided to venture out today and install the Tungle application for my BlackBerry.
The installation process went very smoothly, so much so that I am not going to document the steps here. I simply downloaded the free application from my BlackBerry App World, and, once loaded, I followed the instructions Tungle provides to set up this app.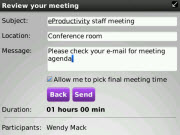 What this application allows me to do is to initiate and respond to Tungle invitations from my BlackBerry, without ever having to log onto the web to schedule a meeting. I am very pleased so far with everything I have seen and I am excited to continue using Tungle. For those of you trying to hurriedly schedule your meetings for
Lotusphere
, this should be a great help to you.